The Counseling and Mental Health Center (CMHC) offers counseling with an Alcohol and Other Drug Specialist for students wishing to quit or lower their tobacco use. Students may call the Counseling and Mental Health Center at 512-471-3515 for more information.
University Health Services (UHS) provides a variety of web-based quit programs and information to assist students in living tobacco-free.
Students may make an appointment with a UHS medical provider if they are interested in discussing the use of prescription medication to assist in quitting tobacco by calling 512-471-4955 or scheduling an appointment online.
---
For all members of the campus community
This is quitting - provides free text-based support to quit smoking and vaping.
Become an Ex — The EX plan teaches you how to live life without cigarettes in 3 steps – all geared to help make the seemingly impossible possible.
Quit Tobacco-Make Everyone Proud — Online program from the Department of Defense for US military service members and Veterans.
Kill the Can — This website offers free resources and tools to help dip, snuff, and chewing tobacco users quit. Along with useful information, it offers a support forum and a live quit chat room.
MedlinePlus® — Tobacco Cessation References
Enroll in Tobacco Research Studies
The Anxiety & Health Behaviors Lab offers free evidenced-based smoking cessation classes and nicotine replacement treatment (Nicoderm CQ®). This service is open to the community, including students, faculty and staff. Call 512-471-1117 or email treatment@utexas.edu for more information on how to enroll.
Text DITCHVAPE to 88709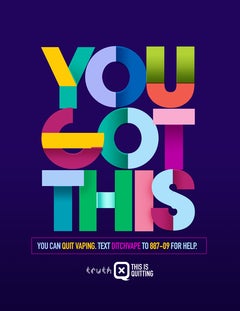 Text DITCHVAPE to 88709